Have you ever questioned why it is some people seem to have everything they could wish for: health, wealth, love and happiness, but others never seem to lack all these things? Why is it a small minority manage to achieve greatness, but the vast majority fail to reach beyond mediocrity? What are this small minority doing differently to everyone else? It can't just be down to circumstance, billionaires rise out of poverty. Those questions have been in my head my whole life and a couple of years ago I decided to stop wondering and start searching for the answers so that I could help more people achieve greatness in their own lives. Join me and follow along as I uncover the secrets of the minority that the majority aren't taught so that you can apply them to your own life, to achieve your own greatness and live the life you want and deserve. My name is David Bell, and welcome to Pocket Mastermind
Episodes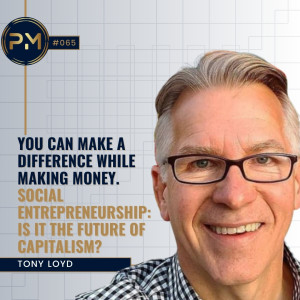 Wednesday Mar 17, 2021
Wednesday Mar 17, 2021
Are making money and doing good mutually exclusive?
I don't believe so, and neither does my guest on this episode, Tony Loyd.
Could the future of capitalism be social entrepreneurialism and social enterprise? A new model where the benefits of free enterprise meet the world of doing good?
Not for profit organisations certainly have their place when it comes to short-term solutions to issues, but their long-term effectiveness relies on continuous fund-raising.
Social enterprise on the other hand, can have a positive impact in the way it sources, produces and sells its products or services from the materials it uses, the waste it creates and the way it treats people.
Following a period of feeling unfulfilled, Tony left his high-flying corporate position with zero notice to pursue a life of purpose and meaning.
That decision has led him to help many people pursue their dreams, speak on the TEDx stage and host a top podcast.
If you want to pursue a life of more meaning, fulfilment and impact, this is a great place to start.
Find out more at https://pocketmastermind.com